Well its that time of the year again. A girl just has to be seen in her finery at Ladies day. Jennifer, her wife Liz and I attended both Exeter and Newton Abbott Races this year.
Jennifer dressed in purple satin dress with matching jacket, and a very pretty fascinator.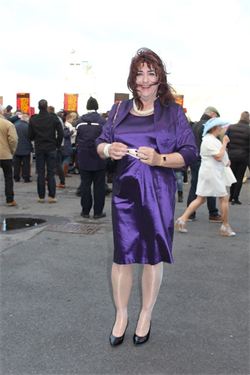 As usual we met up at 3.30pm, the time that the hotel room would be ready for me. I always come with far too many wigs, make up, clothes, shoes etc....oh well is nice to have a choice. It generally takes me 40 mins to do Jennifers make up. I used a lovely shade of lilac from MAC to match her outfit, and the results I'm sure you can see were fabulous. I don't know where the time goes, but we had to rush to the races and just got there in time to put on our bet for the first race. We did have a winner between us, though unsure who won, Jennifer or Liz it most certainly wasn't me.
Although a fair day there was a bit of wind and unfortunately fascinators did not stay on for too long. I would love Jennifer to enter the 'Ladies Day Best Dressed Lady' perhaps another year. I have known Jennifer now for close onto 8 years and Liz almost 2. They are such a lovely couple. Liz helps choose Jennifers outfits. Due to circumstances, Jennifer finds it hard to dress at home, so we do see each other on a regular basis, as you may notice by how many pictures of her are on my 'Gallery Pages'. We all enjoy the races.....even if I never win doh.
The next day Jennifer and I normally do a photo shoot out and around the Exeter area. It is such a beautiful city, and I am gradually learning where places are. This time Jennifer said, to my glee, that we would hit the shops. We normally go to picturesque locations for our shoot, so this was a first. I love going out with you girls and I was impressed that Jennifer knew where all the best boutiques were.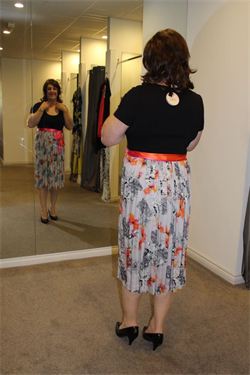 We found this fab shop that caters for sizes 14 to 26. Its called Taking Shape. If you want a tranny friendly shop this is the place for you. We were offered tea and coffee and biscuits.....now now girls, think of that figure. The biggest changing room you have ever seen in your life. They were more than happy to allow Jennifer to try on a few dresses. Their designs are very clever, with much layering and with lots of matching accessories, scarves, bangles, shoes. They offer a complete free styling service. I for one was very impressed and will be back.
It just shows how shops are becoming more open to the trans community. I remember some years ago when Marks and Spencers would not allow one of my girls in the ladies dressing room. Thankfully that has now changed, with even Primark stating their policy is for trans people to choose the dressing room of their choice. Thank you Jennifer and Liz for a wonderful few days...
Now about Ascot...