January 2021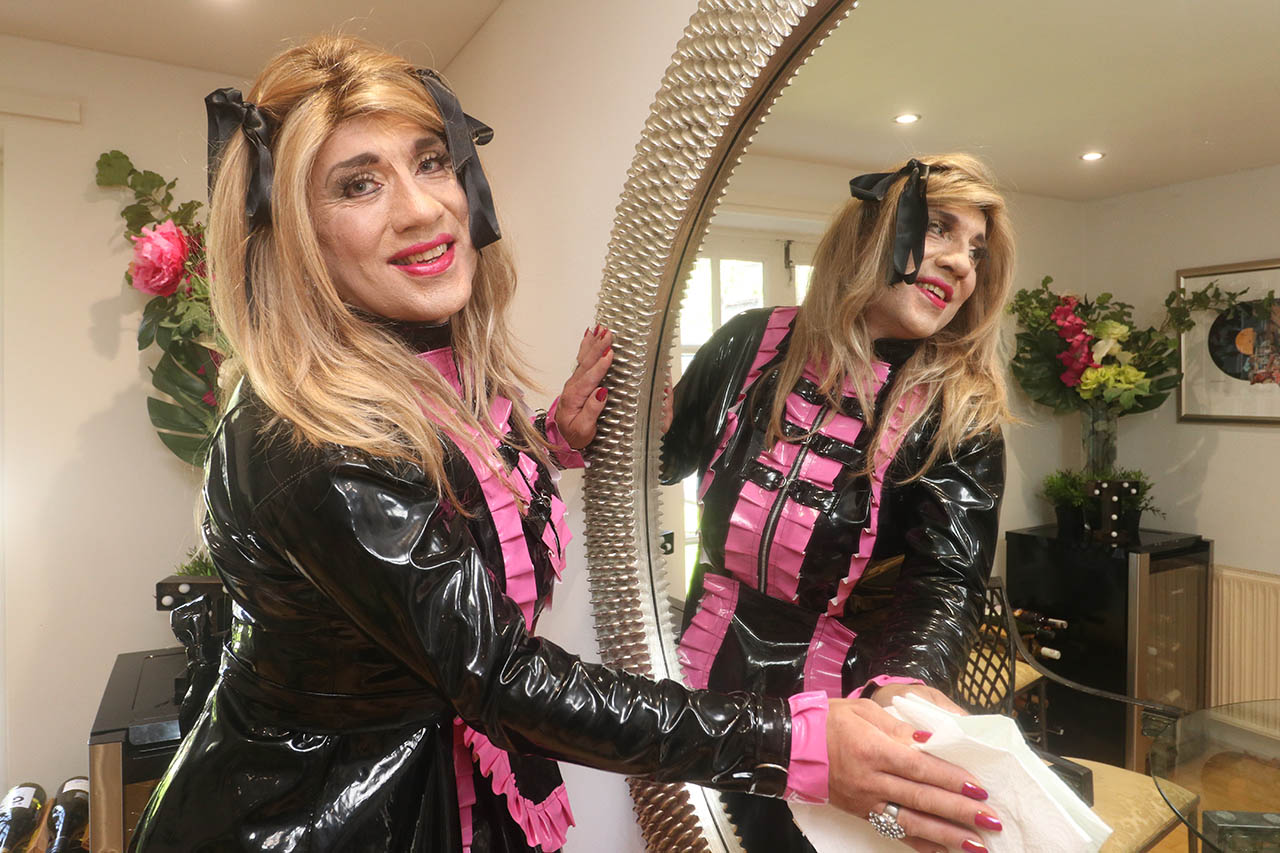 A wonderful 'June' day...
After finally getting the courage to dial the number (on the second time) I got to speak to the lovely Susie and let's just say I haven't looked back since.
We chatted about my gurly feelings, my outfits and scenarios and how long id like to visit for and we set a date. Unfortunately illness prevented me on that day but we quickly rescheduled and how glad am I that I did.
Great communication led me to her wonderful residence in Dorset where all gurls dreams can come true, just like mine did and will do again.
I mentioned to Susie that I had purchased a silicone/latex body suit and would she want me to bring it along? Of course Susie said yes, so it was packed and after an unveiling downstairs, we made our way upstairs to June dressed. The suit went on easier than we thought and felt great, much better than I was expecting, but then I didn't know what to expect as it was a first for me too.
The first scenario of the day was the fetroom as we didn't want to mess the make up and a few 'nudes' and provocative photos later, before the rope came out and got tied around ankles, knees and wrists. A few more photos and then the addition of a gag and June was in heaven, with the addition of a fishnet body and a couple of bunny ears, June's time in the fetroom couldn't have been any better.
But, we had another outfit to move on to, and knowing Susie's love of dogs, I had brought my puppy mask with me which Susie matched with a superb black corset, pvc skirt and thigh boots. Oh June felt so good, just a shame we didn't get to play 'fetch' but maybe next time!
June was feeling great, the suit was moulding nicely to maintain her figure and so we moved on to the office, this was where June really wanted to be, no mask, no hood, just Susie's magical makeup  and June couldn't believe who she saw in the mirror. She even felt like a little tear welling in her now lovely eyes. Next on to the nails and they were soon long and painted. Teamed with a black skirt, red blouse and long hair June felt stunning and posed for many photos to remember the day by.
But it was soon time that Susie needed a maid, and adorned in a pink and black pvc maids dress, petticoat, apron and heels, June felt at home and got on as directed by the lovely Lady of the house.
All too soon, the day came to an end and it was time for June to leave, one last photo, then the unpleasant disrobing and back into the vanilla world.

One thing is for sure, June will be seen again, maybe in October, maybe at Christmas, but will definitely be seen again and would urge all other gurls that haven't yet taken the step like me, just do it, you will feel, and with Susie's help look fantastic and have a 'smashing' time
Thanks again to Chateau Femme, unfortunately I cant rate you on Trivago as the scale just doesn't go high enough!
All my love, virtual and cyber hugs with an elbow tap too ;)
June
xx
‍
Sept 2018
I have recently had a second visit to Chateau Femme and it was every bit as good as the first visit. At the time of making an appointment Susie takes the trouble to find out if you have any particular looks or styles you would like at the appointment.
Having discussed this with Susie when I arrived there was a whole range of outfits in the styles that I wanted to try waiting for me.
Susie has an eye for detail and everything has to be right at each stage of the appointment. No make up smudges, no hair out of place, the right hair style for the outfit, even your pose for the pictures has to be spot on!
Nothing during the appointment is rushed and it is tailored to your requests. The premises are bright, spacious and provide an excellent setting for pictures. Having found Chateau Femme I can highly recommend them and if you're looking for a dressing service get in touch with Susie.
~ Karen
‍
April 2018
"Difficult to know where to start!
I remember early on, perhaps when I was 4 or 5, I was jealous of the clothes my sister was dressed in and wished I was a girl. My first memory of crossdressing, however, is as a teenager.
Left alone one weekend and exploring the loft, I came across one of my mother's evening dresses, a sumptuous strapless 1950s gown in a heavy, shot silk satin. I could not resist putting it on – and that was when I realised that I felt happier thinking of myself as a woman. It was not that I was aroused by the feel of the silk on my skin, as so many are, I just realised I did not like all the things that went with being a man.
But in those days, transgenderisation was neither medically possible or socially acceptable and I reluctantly accepted that  I had to try and suppress the desire.  
Then followed a period in the RAF followed by University, law exams, marriage and children, and while I had fleeting times of desire, it was not until I was in my 40s that it returned with a vengeance and I started dressing in secret.
I was over 50, however, before I sought help in dressing, walking and generally acting like a woman and it was some time after that before I felt confident enough to venture out in public. It was of course too late then to perfect the transformation and I just have to do my rather inadequate best.
I love 5" heels, tight corsets and all that sort of thing but nowadays I have to accept kitten heels, "comfortable" corseting and the "Great Aunt" image!  
My wife knows about Jean and is tolerant but very unhappy. Apart from my younger daughter, who is very supportive, no one else among my family and friends knows.
Because of my circumstances, I cannot dress very often, and only away from home. But I enjoy going away for long weekends and being Jean the whole of that time.
With friends, I often spend time in London, when we go to the Opera at Covent Garden or the theatre, eat out, go shopping, etc.. We have been to several charity balls , including one at The Savoy, and thoroughly enjoy ourselves.
I have no doubts that had transgenderisation been medically possible and socially acceptable back in the 1960s, I would have jumped at the chance.
~ Jean
‍
July 2017
Looking for a dressing service? Not sure where to go? Believe me, STOP right here!
Over the past years and recent months, I have researched probably every possible website for a solution to the above questions right across the South coast in view of opening up  my closet lifestyle.  I have read testimonials, advice from all sorts and looked at all the pictures over and over again but one thing kept bringing me back to Chateau Femme.
I have been an avid follower of the website, both old and recently relaunched website looking at the Angels pictures time and time again, (what a gorgeous bunch of girls) and something kept me coming back to this one rather than any other sites.  The photography and layout of the website kept telling me, 'This lady knows what she is doing and everything looks so  professional'. Eventually, after much deliberation, I  bucked up enough courage to arrange a day to visit Suzie.
I booked a day off but it still took me a good while to actually build up the strength and courage to pick up the phone and book the day. I kept checking the online diary and my day was still available. (perhaps this was fate and the day was  always meant  for me!)  Fortunately this did actually leave a lot of time  for me to wait once I had actually booked the day to wait for the visit.
I phoned one evening and spoke to Suzie to book  the day and things were confirmed.  Suzie  asked me  a few questions to prepare for the day, Shoe/dress size etc, and what styles I would like to achieve during the visit. Everything was planned and I just had to wait for the day to come. (Seemed like a lifetime)
The day arrived and I  was in doubt as to whether I was doing the right thing but kept thinking positive and I am so glad I did. Although I was late through the Bournemouth traffic and my mind was playing all sorts of tricks, once I pushed the security button at the gate, I thought  there was no turning back and I was determined in looking forward to what was in store for me.
I thought  there was no turning back and I was determined in looking forward to what was in store for me.
Suzie met me at the door and I instantly felt as though I had known her for sometime and felt so relaxed as she was so kind and welcomed someone she had never met before  into her home. We sat and had a coffee and brief introduction before getting straight down to business.  Suzie  showed me the lay of the land and then explained  all the outfits on the rail she had picked for me as possibles during the forthcoming day.
Oh what a lovely selection and as she was showing me them  I  would  bring some  to the end as I knew they were definite  for my  day.  
Next I was left alone to dress in lovely Lingerie and stockings including shoes and then a silk gown before entering Suzie's  first workshop. (makeup)  I said to Suzie that I didn't want to see any stage of this until  it was all done but as there were no mirrors in this room, she explained to me that this was exactly how she worked.   (I am in heaven I thought)
Make up was complete after the nails and the final addition, the wig.  I was escorted next door  (without looking at any mirrors) and finished off by putting on my first ever corset and the  first choice of dress. O  M  G,  Sue,  and what a fantastic job Suzie had done.
I could not get over how good I looked. Now it was to work and Suzie got her next incredible piece of equipment ready. (The Camera and believe me she can use it to the best of her ability achieving incredible results.)  Attention to  every detail before pushing the button) time went by although I wouldn't have had a clue what time it was as  I was enjoying myself too much.    As the day went on with changes being undertaken, I felt more relaxed, more feminine and stronger in having pictures taken. Suzie left me to try on some more outfits whilst she prepared our lunch  and then called me down where we enjoyed lunch and some bubbles.  I felt as though I spilt my world life out to Suzie at this time as I felt so relaxed and at ease with her.
I admired the pool in the garden which Suzie explained that it would be put into operation shortly with the warming weather.
I admired the pool in the garden which Suzie explained that it would be put into operation shortly with the warming weather.   She also mentioned she had some lovely swim suits that  would be good for me. Oh my word, never thought of that but can't  get the idea out of my mind now!! After lunch,  it was time  to get back to work, more change of outfits, change of Wigs, touch of lippy each time and  the day just kept going from strength to strength until it was time for the Maid outfit which I was determined to have as part of the day.  (I Think it's Suzie's favourite aswell!)  Enthralling and so thoroughly enjoyable.
Suzie knows exactly how to get the best out of you and her photographic skills prove this.
Another couple of outfits and it was then time to come back down to earth. Suzie once again was so professional and specific to detail as she ensured every ounce of makeup was removed before having a final cup of coffee to finish off the day.
How do I describe my recent visit: Exhilarating, relaxing, fantastic, brilliant, enthralling, enchanting, action packed, fascinating and so thoroughly enjoyable.
How do you describe Suzie: Words cannot really explain such an incredible women such as this but here are a few, kind, caring, considerate, thoughtful, kind hearted, charming, professional with a capital P in all aspects, make up, detail and photography.
So if you are in any doubt of where to go for the  birth of the lady you have always wanted to be,  look no further as I enjoyed my day so much I am not quite sure when and how, but believe me, I will most certainly be back for another absolutely  inspiring visit to Chateau Femme. You will certainly not regret it. Thank you so much Suzie. See you again, soon I hope.
~ Sue  
‍
June 2017
Writing a few words about Susie and Chateau Femme is the least I could do and the money I spent on a 3 hour visit was worth it and then some.
I had never visited a dressing service before and had spent the infrequent opportunities I have to dress trying to achieve the elusive goal of being passable.
I had got close or so I thought but was often frustrated with make-up and choice of wig as I am sure most girls are. Leading up to the session was like preparing for a job interview but I overcame the nerves to press the buzzer at the gate of Susie's property and I am so glad I did (it is in a very discreet area which did help). Susie is amazing and I gradually got used to the fact that I could share details of a facet of my personality that I keep very well hidden with another person.
I had given Susie an idea of what styles I like beforehand and she had a full rail of clothes and many pairs of shoes to show me as my session began. I picked 3 outfits and got changed into some nice underwear and a satin gown while Susie did my make-up and talked through ways to achieve a feminine look as a man. I was then helped into a corset, a first for me, a wig, and finally into the first of the dresses.
I was astounded when I looked in the mirror but when we tried a different wig I realised I had found what I was looking for.
I was astounded when I looked in the mirror but when we tried a different wig I realised I had found what I was looking for. I had photos taken all over the house and in two more outfits and got more and more comfortable posing for the camera. After leaving I got chance to look through the 100+ photos Susie had taken and I couldn't believe it. They were all good, a lot were exceptional and some actually made me get a bit emotional.
I am in my mid-thirties and I had made the decision to take the risk and indulge my feminine side. In doing so I got more than I could have hoped for. If you're thinking of taking a chance I would say go for it and book a session with Susie, you won't regret it.  
~ anon
‍
June 2016.
So would I write a testimonial for Chateau Femme? Wait lets rewind to Sept 2015 I did one then some 9 months.
If you are looking at the  testimonial pages now, you are in the same position I was then, looking to make sense of it all, longing for something but just not sure what, wondering if any of these testimonials are true !!!.
So what's changed, why am I bothering to write another testimonial to Chateaux Femme & the lovely Susie Adams?
So what's changed, why am I bothering to write another testimonial to Chateaux Femme & the lovely Susie Adams?
Well I've changed & after 5 visits to see Susie at Chateaux Femme I've grown in myself & changed direction & I've almost found what it was I was seeking. But this is not about me! This is about a dressing service that provides an experience of a lifetime & is second to none in my eyes (otherwise why go back 5 times).
Whether you are like me a new girl, or even an old hand or just looking for a dressing service because you are new to the area.
From the minute you make contact with Susie you can rest assured you will be in the hands of a complete angel, one that probably knows more about how we feel than we do ourselves to start off with. A person that is so passionate, caring about what she does & about helping people like us to find  their inner femme side & to help it come out & to blossom & grow.
So you've made contact don't hold back, now is the time to be upfront with Susie, discuss you wants' desires, feelings any thoughts you may have on styles you would like to try. Don't be afraid Susie has seen it all before & has helped many young girls transform, she has one of the largest wardrobes collection you can imagine & sizes to fit all.
One important thing, to get the best out of the experience is to be honest with yourself & Susie, (tell her how you like your tea how many sugars you have because Susie does like a cuppa). Saves so much time later trust me. If you have been open & honest with Susie the day you reach her gated property, she will have everything ready & prepared to make your experience a day / lifetime to remember & it's only a short walk down the driveway to your hearts desires, where you will be met by a warm, sensitive, compassionate, truly remarkable lady who will take you on a roller coaster of an emotional ride & bring you back down safely with nothing more than a gentle landing.
I could tell you what will happen throughout the day but that's not my place & that would spoil your adventure & your experience. But let me say this, if you are like I was the very first day I stood outside the door, scared, nervous, unsure, frightened getting ready to run back from whence you came STOP DO NOT DO IT, for if you do you will miss out on  one of the most life changing moments you may possibly ever have.
So when I say you have nothing to lose but oh so much to gain! It's true & I mean it. Thank you Susie for being there for girls like us & helping me & others realise our dreams.
~ Love Tabatha Tees, Born September 2015 & growing more each day xx 
‍
Sept 2015
So you have found your way to the web site for Chateau Femme, you've looked through the pages & read the blogs, checked out the pictures in the galleries & now you're reading the testimonials & asking yourself if they are real, fake or just works of fiction created to try and drum up a little more business?
Well STOP & just hold that chain of thought for just a little longer, continue to read on. You are now in exactly the same position I was just a short time ago, I had a feeling of wanting more & yes I was feeling anxious, nervous & I dare say a little scared as a "new girl" wanting to come out, or maybe you have tried a dressing service before & have been left disappointed by the results, maybe it didn't turn out like you hoped for. or maybe you are new to the area & are looking for a new dressing service?
All is not lost girls, from the time you make that conscious decision to pick up the phone or type the e-mail & make first contact with Susie your worries are over!
As you reach the next step of standing outside her front door, again steading yourself drumming up the courage not to turn tail & run, with thoughts running through your head of what have I done, is it the right thing for me, what will Susie be like, will she even understand me, or how will she react to me & how will we get on, what if it's a disappointment like the last time, or maybe it's a case of I used to get on so well with my other dresser how will Susie compare.
Well as Susie opens the door & greets you with a warm, loving smile with a gentle handshake & a invite to step inside I can assure you ALL, whether you are a "new girl" like me or a disappointed old hand or someone that has already found her place & is seeking a new dresser, every last one of your fears are unfounded.
Susie is an absolute treasure for girls like us; you are treated with kindness, compassion & a deep understanding that can only come from a person that is both passionate & caring about what she does & from someone who knows through the experience of life some of the trauma that some of us go through to reach this stage.
So to get the most out of your day I highly recommend that you give as much information to Susie upfront as possible, your likes, dislikes, thoughts & ideas on styles, what you would like to try. How strong you like your tea & how many cups you can drink etc. (as Susie is not a mind reader and she does like to drink tea, so the more info you put into it the more you can get out of it).
Take the whole day package if you can, because as you sit there in your finest undies drinking tea, whilst Susie works her magic with the makeup brush (she truly is a master of the art) heading towards the "big reveal" you are not going to believe your eyes (I really did want to cry).
Then off to the wardrobe (this is where you can save time, by being open with Susie at the start) she has so much to offer you, how does a girl choose (sizes to fit all trust me).
Put your faith in Susie & let her do what she does best, (in my case turn a ugly duckling into a swan, if you don't believe it I have given Susie permission to include me in the gallery section, never ever thought I would do it, but look me up). Because you have the whole day there is no rushing, no stress & you do get to try Oh so much, you even get to lunch & have a natter with Susie, it's just like going out with your best friend so relaxing & stress free.
Back to the beauty grindstone for more after lunch & a word of caution her if I may girls, if you think this is going to be easy, think again by the time Susie has finished with directing you to pose this way, that way, look here, look there, put this arm over there, that one on this hip, pout kiss & show just a bit more leg or cleavage, you are going to have a whole body work out. But what you will leave with is a memory stick of top quality photographs that are a joy to view over & over again, along with a head full of memory's that are yours forever.
So don't just take my word for it, find the courage within yourself and do it, you won't regret it and you have nothing to lose, but oh so much to gain. Thank you Susie for so much!!!
~ Love Tabatha Tease xx (Born Sept.2015 & living forever) We all have a life, we should live it, and we do deserve it, and it's our duty to enjoy it. Let no one take it away from us.
‍
Sept 2015
You might be reading this and be in the same position I was when I read through the Chateau Femme testimonials. I had never dressed before having only tried on some underwear for fun and was looking to explore my feminine side.
Booking the appointment was straight forward and was organised completely by email which was fine with me. We exchanged several messages discussing what I wanted to wear etc. I was pretty vague because I didn't really know so left the detail to Susie which turned out to be a good choice!
Finding the address for the booking was no problem and there was plenty of parking on the street. Knocking on the door I was feeling very nervous but when Susie opened the door with a welcoming smile I knew I had made the right choice. We had a chat over a coffee and had a look through the 4 outfits that Susie had picked out and then it was time to get started.
Susie popped out of the room while I put on some panties and a suspender belt and then came back to help with the waist cincher and stockings and heels. Then it was on with a robe while Susie worked her magic (and it is magic) with her makeup box. 30mins later it was on with a wig and time for the reveal.
As soon as I saw myself dressed I started smiling, the change was just incredible and I will never quite be able to describe the feeling but wow it was an amazing moment. I spent the next 3 hours looking and feeling amazing as Susie directed me in various posses through 4 outfit changes while she snapped away with her camera.
I have never considered myself photogenic but wow Susie took some incredible pictures. When it was time to finish we had a cup of tea while the pictures copied over from Susie's camera and I left still smiling with a USB stick with over 250 of the most amazing pictures.
I don't know where my new journey will take me, but I am so pleased I started it with Susie @ Chateau Femme. Hope to visit again soon
~ Gemma Y xxx
‍
Aug 2015
Chateau Femme is not my first Dressing Service by any means, and I had to wait several weeks before I could arrange a suitable date.
These weeks were put to good use as I searched the website and followed all the links, I even read some of the recommended literature on the complex subject of transvestisms.
I soon became aware that Susie Adams knows a great deal about the subject and was perhaps a person who could help me come to terms with some of my very personal issues. Her facebook page is very interesting as is that of her partner Tara Fairchild who has an excellent web-site and is also a Tranny!
Telephone chats with Susie gave further assurances and I soon felt that she was someone who I could talk to and have fun with.
When the day arrived I was early but that didn't matter we just got to know each other over a cup of tea. It only took a few minutes to break the ice and a few intimate truths from both parties were the prelude to establishing an atmosphere of empathy and mutual trust.
I had told Susie in advance as to the kind of images I wished to create and she was well prepared for the occasion. The session was quite unforgettable and I left on an emotional high and at the same time feeling relaxed and comfortable.
After many, many years of searching I have found the place that I have been looking for. Chateau Femme is Susie Adams and that is what makes it special.
Susie is on a mission with the aim of helping people, she helped me and we will get together again sometime soon. If you are thinking of paying her a visit then do prepare yourself and let Susie know so that she can do her best for you.
If you are concerned about confidentiality then talk to her as she understands perfectly. Susie will gently take you on a journey of fantasy and illusion and bring you back to earth safe and sound.
Life can be very short and you don't know what lies around the corner, anyway there are far worse things than a little self-indulgence and some harmless fun.
Good luck whatever you do,
~TT
August 2015
I didn't quite know what to expect when I arrived for a session with Susie. It was the first time I'd ever done something like this and like many I'm sure, I was filled with trepidation and fear. I took a deep breath and rang the doorbell...
The door opened and Susie greeted me with a lovely warm smile... 'You must be XXXXX, nice to meet you'. It's hard to quantify what exactly it is that puts you at ease in this kind of scenario but whatever it is, Susie has it.
Initially the session started off much like a visit to the Doctors would. Maybe a slightly alternative Doctor for sure, but nonetheless it felt like talking to someone that wanted to help you - and within a few minutes I was divulging things I'd never shared with anyone else before. In all honesty I could have easily just spent the whole time talking but Susie was having none of that...
If anything can attest to how at ease Susie makes you feel it's how short a time has elapsed between meeting her at the door for the first time and sitting perched on a chair in front of her dressed in only, well not even your own underwear!
I've got huge issues with my own self confidence but somehow within a few short minutes she had me in a corselet, panties, stockings, heels... Ready for her to get to work...
The rest of the session will remain between us - but if I can offer some advice to others who are booking for the first time it would be this - don't hold back on letting your inner self out. You are in safe hands... That said, I double dare you all to hand the reins over to Susie completely for at least part of your booking - that lady has a mischievous side to her!
Anyway, thanks Susie. It was a lot of fun and will be back soon.
September 2014
Chateau Femme IS all it is cracked up to be. Susie is a lovely woman who is interesting to talk to, and funny. She does a great job with make up, and has put thought into what she will get you to wear. Then the photography starts, and she is really excellent at it and keeps on taking pictures until your time there is done. You don't have to keep thinking "What shall I do now? What pose?" She tells you what to do, and the results are fantastic. I highly recommend a visit to see her.
~Pippa M
August 2014
Nervous did not quite describe how I felt when I first took the plunge to contact a dressing service. After I had had the crazy moment and paid the very reasonable charge, panic set in. Have I done the right thing? What have I done? All the questions and still three weeks till the day.
Then, I discovered Susie had a facebook group, https://www.facebook.com/dorsetdressing/ so I joined.
Soon I was invited to an outing in Bournemouth and the girls were very persuasive. I plucked the courage and went. OMG, what a night! But, I digress. This meet, put to rest a lot of the fears I had especially seeing as Suzie and the girls made me feel so at home.
The day of the makeover arrived. I shaved, moisturised, and dressed in drab. Got in the car and drove to the venue. Butterflies were fluttering, would Suzie be able to pull a butterfly from this pupae?
Well, from the second I arrived, Suzie was the pinnacle of kindness, drew me out, made me feel welcome, comfortable and above all relaxed.
We chose a few outfits from her amazing wardrobe, and she began her magic. The excitement built as she worked her magic. Suzie keeps you away from mirrors while she works!! Then it was time for the big reveal.........OMG!! I hardly recognised the person looking back at me.
Suzie is a masterful artist when it comes to makeup. The morning whizzed by much too quickly with many costume changes, and the all important photo shoots.
WARNING!! Be ready for a full workout as Suzie will get you moving from one pose to the next at the speed of light! The photos are downloaded to a USB stick while you change back to drab but not once do you get to see her work. All the way home, all I could think of was getting to see the end result. And OMG, was it worth the wait!!!
Absolutely stunning pictures. Top class photography. Artist at makeup, artist at photography. A fantastic, confidant, professional woman who understands the man who loves to dress better than we know ourselves.
My advice, …....., book now, do not hesitate, oh, and book a full day, It is definitely worth it. Suzie, thank you so very much for making the day so special.
~Love Chantelle xxx
August 2014
Testimonials....usually, to quote Private Eye, a source of " gushing sentiment" all round are they not?. So I will dispense with this from the start. Chateau Femme...
I had met Susie some years ago and knew that She is a Lady who, whilst not only having a deep and natural empathy for girls like us, also has a wonderful personality, a sense of humour and...integrity.
It's very easy to be exploited because of our nature and there are plenty of horror stories around about those who promised but failed to deliver as it were. If you are nervous, which is understandable as we all are, don't be. Susie will make you feel very relaxed and comfortable. She will also talk to, and with, you, NOT at you.
There's a BIG difference !
The venue is quiet, discreet and relaxed, very comfortable and very conducive to dressing and photography. Susie is a very competent make up stylist and you will be transformed with care and expertise in equal measure.
Think of the day as being like a butterfly emerging from a chrysalis as your femme nature is nurtured and emerges thereafter. Yes, there is a cost, but, think of this as being a small investment....... for a very long term reward. Yourself and whom you want to be.
We have all faced those moments of angst and worry about being a girl, me included although I have been fortunate I admit in having some excellent guidance and encouragement over the years from certain Ladies I have known.
When you visit Chateau Femme therefore, you will be taking control of your own wishes as I say, and that really is the key. I don't offer testimonials like confetti, in fact, I am generally critical of poor service or products when asked and I have nothing to gain by offering this one... except that is, for one small point. I have been where many of you are at present, possibly nervous and uncertain and, for me, helping others achieve their wishes is part of my nature and life in fact.
Bournemouth is very accessible, by road and rail.....the visit can, and will, change your life in a positive manner.
What more could you wish for ?
~Natascha xx
July 2014
Right from the off there was a mutual trust that created the right atmosphere for a truly memorable day.
Your attention to detail can only be the product of many years experience. Everything I asked for, I got – and I did ask for some silly things ! I won't be painting toe nails again in a hurry, after about three attempts to clean them up, I believe that they are now more or less in their original and dilapidated condition. Without that silly request I could have had at least another half hour encased in stockings – never mind.
There were so many moments to savour, I don`t really know where to begin... But if I can try to make a very short list... the preparaIt really is difficult to know where to begin to describe my pleasure and satisfaction with my visit to you on Wednesday.
Firstly I have to say you are a top class lady doing a first class job. You totally understood the customer`s needs, his state of mind, his expectations and limitations and tion and pre match build up – making myself smell all girlie and discreetly preparing my legs; the red dress – no need for more words; and of course the bondage.
But I can`t proceed further without again congratulating you on your preparation and attention to detail – the perfect seams, the perfect wig, the well fitting shoes, the lovely jewellery, the make up, the perfume, the conversation, the photographs. First class would be a total understatement.
As for next time – we spoke about so many different things, I think it boils down to a short list of three: a) an outdoor escorted session – going public; b) the T-Girl club or whatever its known as on the fourth Friday of the month or c) a session with some serious bondage.
My preference is probably option "c" and I will give you my further thoughts on the subject in a separate mail. Likely timing will be when my wife is next away – possibly sometime in October but not yet arranged. Optin "a" may be a close second though. I must also mention what a lovely end to a lovely day after I left you – a short walk down to a lovely beach where I just laid on the sand for a short while and unwound.
Now enjoying the delights of Ilfracombe for two days before my other half returns. Thank you once again.
~ Laura
‍