Because I have been running my dressing service for quite a long time you sometimes forget the apprehension new girls have when they first visit. So I thought I would revise an old blog to help all of you who are about to visit someone for the purpose of freeing your alter ego!
Lets first of all allay some of your fears.
Most of the people who run this type of service do like trannies. They do enjoy the whole interaction. I personally adore them and love the creativity they bring to my life. If you have a doubt anyone about a service you might be considering to visit the best guide is to see if they offer dressed nights out. The people who offer this are the ones who are not afraid of any of the ramifications of going out with a T-girl when she is dressed. They like trannies and enjoy their company.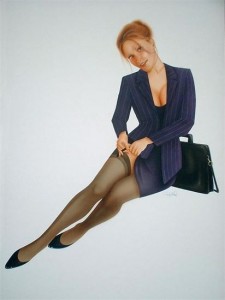 Secondly don't be afraid of what is behind the door. I know its a big step and if you have had a good rapport with them beforehand then there should be few surprises. If they have been in business for sometime they are well prepared and believe you they have seen everything, every shape every size, every love of a particular style and of course the fact that many girls get very turned on when they dress. You are normal not abnormal believe me.
Please however remember that a dressing service is not a mistress or a prostitute. This is somewhere to discover your inner woman. We offer make up, hair, clothes and photography in a safe sane environment that allows you to relax and enjoy yourself in whatever style you wish. Thirdly those who run the service are not mind readers. Good communication between ourselves is the basis for great fun.

So how do you make sure you have a good time for the first session with a dressing service. Well here are my guidelines:
Have an idea of the look(s) you would like to achieve when you visit. Either email some photos beforehand or as in my website look at the galleries and drop me a reference note. I have over 1000 dress styles available and to leave you to just look through my many wardrobes would just take too long. Trust me to find several alternatives that would suit. It also helps if you can give me a preferred hairstyle. Though this is not imperative.
Tell me your dress size (if you do not know it here is a guide to sizes) your foot size and your height. Its important for me to able to find clothes that suit the style you want to achieve alongside your shape.
Are you going to be hairy or hairless. This might sound odd but I have to know how to cover or uncover you. I consider too much hair showing not be very ladylike
Tell me any photographic poses you prefer. I like to provide the right furniture from stools to sofas to St Andrews Crosses!
If you may have a skin condition or are allergic to something whuch may be in a makeup type I have many solutions
If you want extras such as nails, eyelashes and make sure you add extra time for these to your session. I hate to rush as you need just a little time alone to 'adjust' to your new self
If you have certain items you love to wear then do bring them along and we can incorporate them into the session
I have always found the best times come when you can tell me as many of the elements you want to involve into our time together. Do tell me as much as you can I would hate that you don't get what you want or expect. OK leave me a little bit of creativity as I always like to take you a little out of your comfort zone!