I will be the first to admit that although I have a vast selection of wigs I do not spend a fortune on each one. I appreciate that if you are out on the street on a regular basis then of course you should probably pay a kings ransom for a real human hair wig. But as most of my girls have pictures taken indoors its really about how I style their hair and the fact that the result can be photo-shopped in one form or another.
I also find that once you move beyond those really cheap fancy dress wigs to reasonable hairstyles in the £20-£50 category the next step up to better quality is over the £250 price bracket and that is beyond my budget. On top of this I only tend to use my wigs 3-4 times before I bin them or sell them to one of my customers. The concept that 10-20 sweaty heads have worn the wig before you is both unhygienic and unappealing, and once you wash a wig it rarely regains its former glory.
So for me its the combination of a good basic quality, many styles in several colours, a hygienic solution at a good price that drives my thought processes. With the variety of styles and colours available its important to learn a few basic facts when thinking about what type of wig(s) you should buy.
As I see it there are 5 things to consider
Face shape
This is the most critical element. In principle you are looking for a hairstyle to be in opposition to your face. So if you have an angular face you want softer styles and vice versa. The best way is to look in the mirror at yourself, take a lipstick out and draw your face shape shape on the mirror. Then compare it to my summaries below.
I think there are 8 types as follows: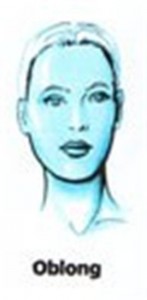 Oblong
Longer than it is wide with a rounded chin. Needs wigs that longer and wavy with an off centre parting. Think Liv Tyler.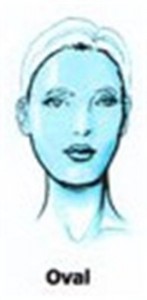 Oval
Angelina Jolie personified perfect symmetry with length being 1.5 times the width. Wigs should be off the face and a little shorter but not too short and don't pile your hair on top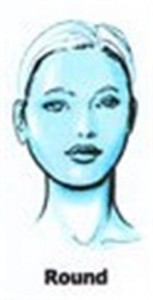 Round
A width and length balance like Gwyneth Paltrow. Need shorter wigs that add height to the head so plenty of layers on top. Centre parting works.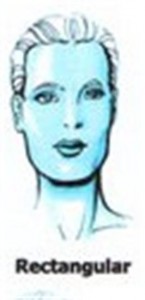 Rectangular
Think Sandra Bullock. A longer face with a square jaw and straight forehead. A longer wig with an off centre parting that adds a bit of weight to the temple area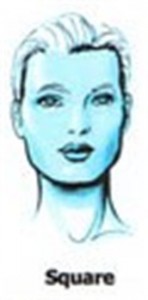 Square
Demi Moore personifies this, as it says has equal dimensions around all parts and is very straight. Needs longer wavy/curly styles with an off centre parting. The cut needs to be soft not angular.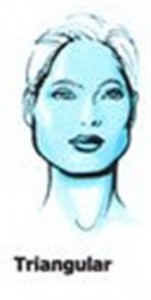 Triangular
Think Billy Piper. Flat forehead and pointy chin. Needs height to hide the forehead and to curl around the face to soften the chin but really needs straight hair.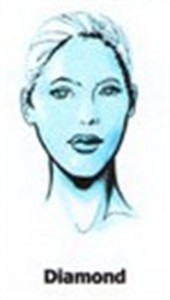 Diamond
This is slightly longer than wider and narrow at both the chin & forehead. Full wigs particularly at the temple with a fringe or side parting. Take a good look at Elizabeth Hurley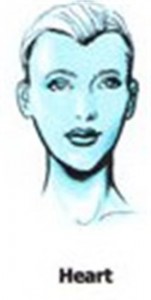 Heart
Wide forehead, high cheekbones and pointy chin like Reece Witherspoon. Needs volume around the chin so hair on the face from temples to chin. Bangs work really well with this shape
Facial features

If you want to take the eye away from big ears cover them up with a medium of longer wig. A big mouth keep the hair off the face. A big nose make sure you have a swept fringe with a side parting not a centre one.
Complexion colour

This depends on whether you want to stand out of not. But from my experience you have to combine perfect make-up with a great wig if you go for a very serious contrast of for example light skin with a dark wig. The reality that blends better is to move the two tones closer together. Work with your skin tone not against it until you gain confidence.
Hair texture

The effect of curls and straight hair on your look is dynamic and as I said in previous parts of this guide pay close attention to what effect it has on the shape of your face
Think about use and context
If you dress for long periods of time you have to live with it. My partner hates hair getting in her face if she is cooking, eating and walking around. She says the long hair is great for a little posing but becomes a pain whenever she has to do anything. So Tara has gone much shorter.
Allure magazine says that there IS a 'universal cut' and that the hairstyle that can more or less go with most faces is shoulder-length hair with slight layers and a long side swept fringe. Make sure your hair has some nice hair volume to it too. According to them, this cut flatters every face shape, hair type and is suitable at any age. So you should have one of these in your wardrobe regardless. Yes you are right I have several!
Naturally all this can be confusing. You can try apps such as Hairstyles for ipad and android to get some basic ideas or try an avatar of your self at Zwinky. The web has some resources such as Wikki How and Marie Claire does a nice virtual makeover and of course come to visit me for your own personalised beauty consultation and buy a wig to suit you into the bargain!
Susie XXX