The last few weeks have been very busy with many new faces arriving. The most difficult thing for the novice is being able to decide the style of dress they want to adopt for a session. Within this is the biggest problem of being realistic about what you can achieve.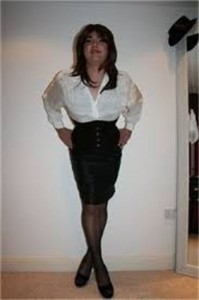 Remember however that this is meant to be your time and you should get what you want. I can adapt most dressing styles to suit but if you bring along a picture of a size zero girl and you are effectively a size 20 then there may be an impossible gap between what you want and what I can do. Determine what your dress size is first then look at the many people who wear
If like me you enjoy sexy looks then there are thousands of great looking women who are not the shape of a cocktail stick. If you look at them they exude attitude and raw sex appeal. It is all about how you feel in your head and how your mind drives you. Some of the best models are voluptuous curvy goddesses that everyone thinks exude that certain sex appeal without worrying about the platitudes of the current boney fashion industry

The same applies to your attitude to hair, breasts, legs and lingerie. If you have a particular look then by all means go for it but also be reasonable about what you expect to look like
I tend to divide dress styles into 6 distinct categories...
Classic
This is the traditional lady look. Elegant and sophisticated with a hint of sexiness, but very much cloaked in a more refined style. Lower heels, longer shirts and fuller blouses, with perfect nails and hair. A look of haughty refinement. Perhaps this might entail a ball, prom or cocktail dress, but always one for the perfectionist.
Retro Chic
Harping back to a time when times were swinging with floating skirts, fully fashioned nylons, tight jumpers and flowing hair.
Business
Be it secretary or boss the tight pencil skirts and sharp suits. Set off against white blouses or striped shirts and sensibly elegant high heel pumps. Stockings and suspenders hidden beneath the layers are a must!
Bridal
The eternal look of the flowing satin and lace gown, the veil. The hidden lingerie and the unique sensation of the special event.
Tart
The girl who gets a rush from a sluttier look. Perhaps a Street Hooker, or the girls night out on the pull look. The very short skirts, the very high heels, the bigger boobs, the heavy make up. Lots of jewellery and an accentuated hip movement in your step
Fetish
A penchant for latex, leather, PVC fitting close tight and taught to the skin. A hidden mask or a chain collar or a set of cuffs can set it all off.
Submissive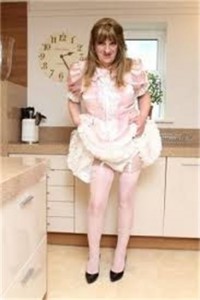 Either maid or Sissy this is a servile approach in a short frilly dress with gloves. A person to be taught to serve and recognise how to be servile. Proper curtseys obligatory!
You have to remember that its your time and your imagination that drives what happens. I offer all these options and see these and so many more derivations. Take a look in my gallery you will probably see what you like and by telling me before we can sort out the details in advance. By doing this you arrive with a mindset of what you are going to do.
My Tranny girlfriend Tara says that before a dressing she probably starts planning 6 to 7 days ahead as this ensures her mind has 'flipped' to the femme side by the time she actually starts to dress. It seems logical and one that can really prepare you for a session.
Susie XXX